Creating a new kitchen from scratch can be exciting and daunting in equal measure.
Known as the heart of the home for a reason, your kitchen layout has the potential to be the biggest point of contention in your home or to compliment your routine and lifestyle perfectly.
We have many clients who have been dreaming of a new kitchen for decades and can't wait to rip their outdated model out and start from scratch. On the other hand, we have clients who are attached to their kitchen but know deep down that it isn't doing their family any favours.
Each situation has one thing in common – the best layout for their new kitchen should be one that suits their household perfectly, right down to the type of cabinetry and the position of the breakfast bar.
No two families are the same, and one of the biggest benefits of recreating your kitchen is that the space can suit your routine, lifestyle, habits and growth right down to a science.
Despite popular trends, the long term love you have for your kitchen will come from its functionality and the way it serves your family rather than the look and aesthetic appeal. After spending thousands on your kitchen renovation, you want it to be something you will love for decades to come.
Create an Everlasting Floor Plan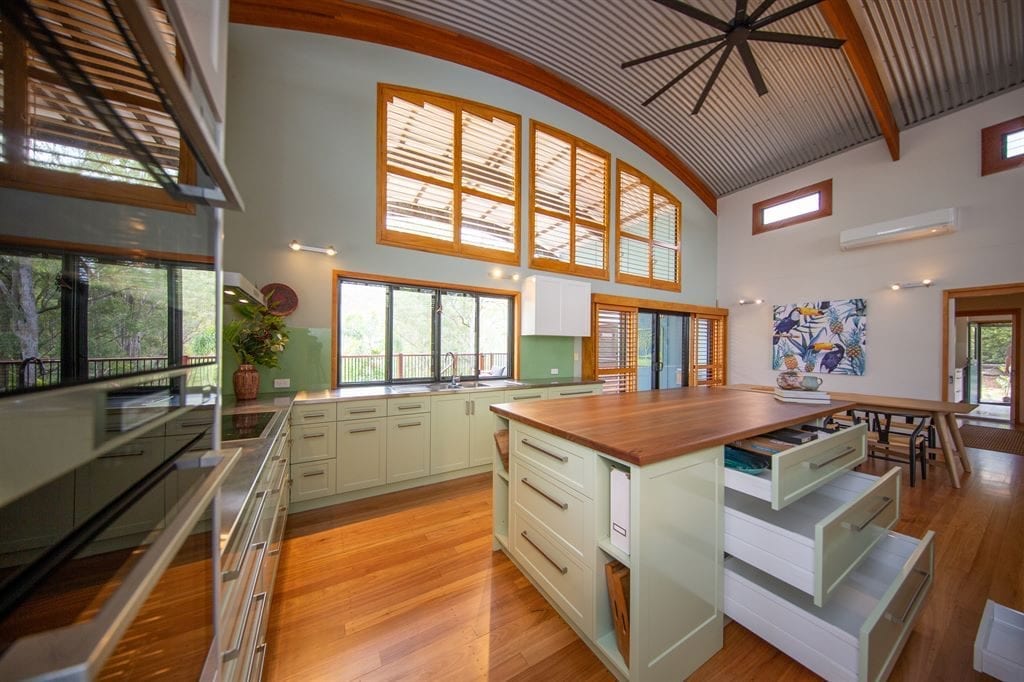 In planning a kitchen layout that you will love for a lifetime, take the following into consideration:
Reduce unnecessary traffic
This can include creating a mudroom off the kitchen, installing a butler's pantry or simply adding space to dump school bags and coats out of the way of stoves and hot pans. The idea is to lower the number of times your busy family will need to traipse through the kitchen to complete simple tasks that could find their home elsewhere.
Improve the distance between fixtures
Most people have a story of an old rental house where you couldn't open the fridge and the pantry at the same time, or the distance between the bench and the oven was marathon worthy. These instances are a result of poor planning between fixtures. Keep in mind how you use your kitchen for daily tasks such as meal preparation, cleaning and serving and plan your powerpoints, plumbing and stovetop accordingly.
Make sure your kitchen island isn't too far from shore
A kitchen island is not meant to be a lonely chunk of granite that just looks nice. This is where you will do most of your meal preparation, serve quick meals, share nibblies with friends, have family meetings and sit your kids down to work on their homework. While it's important to have a kitchen island as central, it's important to ensure the island isn't blocking the swing of the oven or dishwasher or interrupting thoroughfare through busy areas of the kitchen. It should be within a comfortable arm's reach from as many fixtures as possible so you can stir, bake, clean and serve without skipping a beat.
Prioritise your kitchen sink
When planning a kitchen, it's important not to consider 'everything but the kitchen sink'. Many designers begin their floorplan with the sink as the first consideration, and while people don't generally spend their night scrubbing dishes anymore, the sink's location is still worth mulling over. Think about planning your sink in front of a window for dish drying or growing herbs, or in the kitchen island to get the most from your bench space.
Don't forget about ventilation
Before you go too far down the path of planning for an epic statement oven in the middle of your kitchen, consider where the ventilation is in your current kitchen. This will generally be on an exterior wall, and placing your new oven in the same spot will save you a few headaches and a lot of money.
Open your mind to different storage options
One of the biggest reasons for recreating a kitchen is to improve the amount of storage. Don't fall into the trap of ending up with prettier cabinets that don't offer more space for your Tupperware, and consider how you can improve your storage with modern solutions. Vertical storage is a great way to achieve this, along with pantry storage, open shelves, overhead pot racks, and storage walls.
These considerations are generally useful for any new kitchen design layout, but you may be on the hunt for some examples of modern kitchen layouts in action. While every family, home and vision are different, the following layouts will get your creative juices flowing and help you to envision what may work best in your space.
What kitchen will work best for you?
While considering each option, take the following into account:
What shape will suit your kitchen area the best? There's no point trying to fit a square kitchen into a round-shaped hole.
How do you use the kitchen? The layout should suit your routine and workflow.
Think of it as a triangle with the fridge, sink and hob forming each point to promote ease of use.
Consider the relationship of the kitchen with the rest of the house, especially in an open planned space with a dining table nearby.
Include the needs of your family, from whether you have small children to if you need a specific type of countertop to suit your height.
Compare your budget to the average cost of kitchen renovations. This will give you a good starting point to start your kitchen planning.

Let's Talk Layouts…
When it comes to kitchen layouts, there are options to suit every home, small or large, modern or vintage. Much of it will depend on the space you have, but with what can be achieved through renovation these days, the sky may very well be your limit.
Galley Kitchen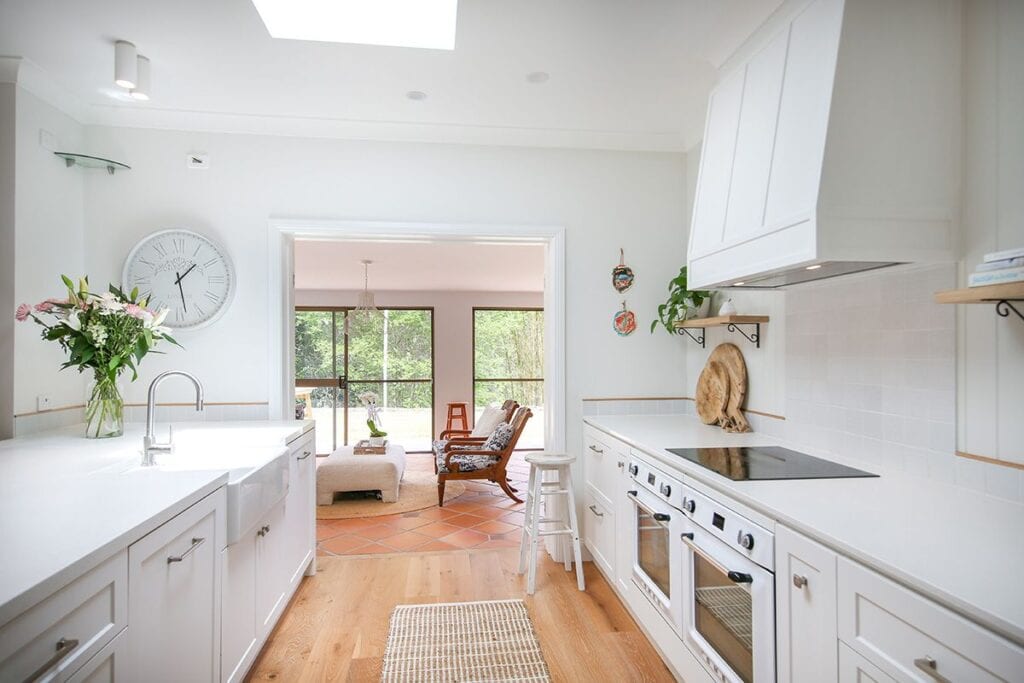 Aptly named after the kitchen you would expect to see on a ship, galley kitchens are an excellent solution for small, narrow spaces.
Think cozy urban apartments and older style homes with formal dining rooms.
Galley kitchens get a bad rap in today's open planned living society, but if well planned and constructed, they can be a hub of social activity and a perfect place to whip up a feast. There's a clever and stylish galley kitchen solution for everyone which will allow you to flex your design eye and plan the perfect amount of storage.
U-Shaped Kitchen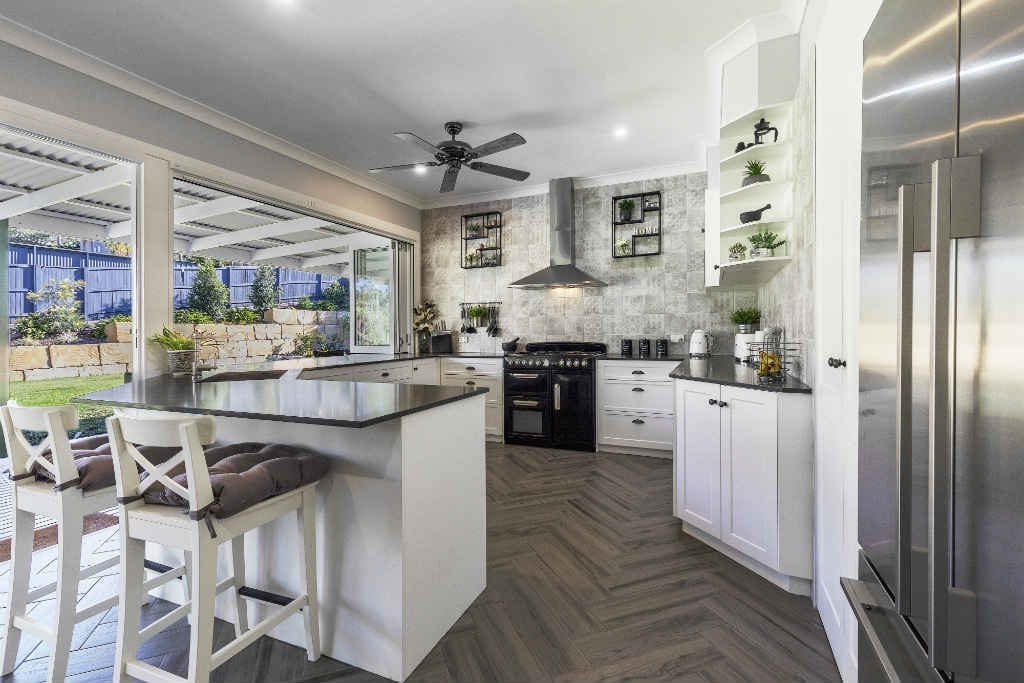 A u-shaped kitchen is one of the most efficient configurations for any home.
A common inclusion in many modern home designs and complete kitchen renovations,
U-shaped kitchens allow for optimal bench space and a perfect configuration of appliances. Working well in both open planned homes and smaller wall to wall spaces, a U-shaped kitchen may provide the storage and efficiency solution you've been looking for.
L-Shaped Kitchen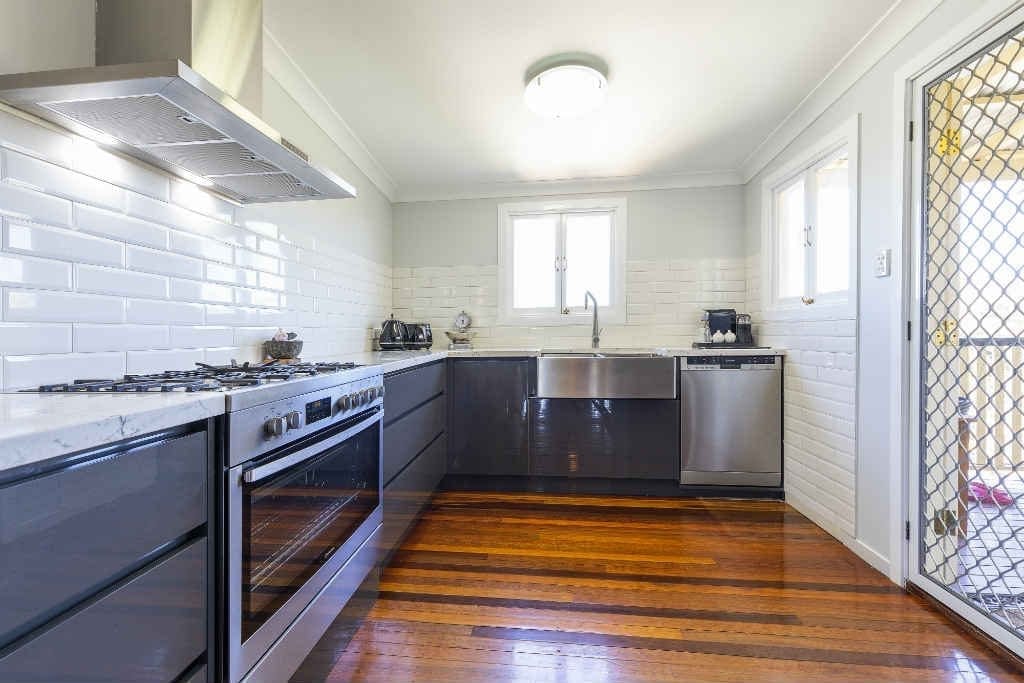 L-shaped kitchens can strike the perfect chord of stylish and practical in almost any sized home.
Encouraging an open flow of movement, L-shaped kitchens allow you to put a dining table in the kitchen, build the perfect kitchen island or simply leave the space open so you can dance while you cook.
Open Plan Kitchen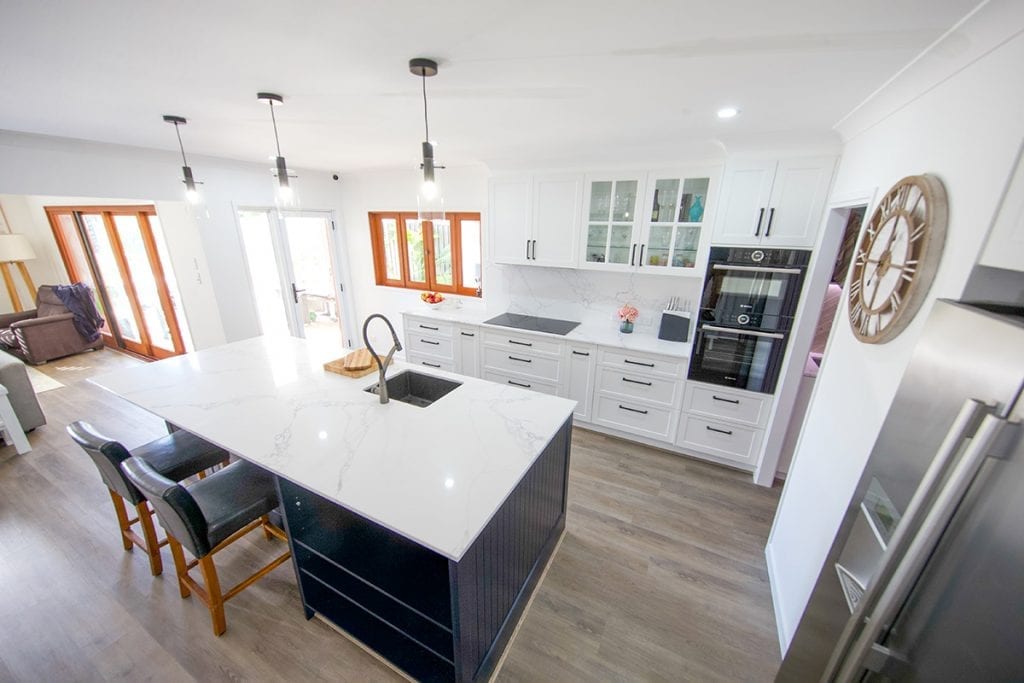 There's a reason why open plan is the new vogue.
Allowing for optimal light, space and versatility, open plan kitchens have become synonymous with a modern lifestyle. They allow you to combine dining and living, so you can achieve anything from binge watching Netflix while you cook or entertaining your entire family without compromising on comfort.
Creating an open planned kitchen to suit your needs is simple thanks to their versatility and wide variety of design.
---
Make your dream kitchen come to life…
With so many considerations, ideas and options out there, starting your new kitchen from scratch can feel overwhelming. Kitchen designs have come an incredibly long way, and it is now possible to create a space that suit your needs right down to the height of your benches and the location of your fixtures.
With so many trends and designs flooding the market, function remains the most important thing to consider when designing a layout that will last a lifetime.
Easy Living Kitchens are experts at complete kitchen customisations. If you need help making your dream kitchen become a reality, contact Easy Living Kitchens today. You'll be surprised at how much a kitchen that is made perfectly for you can change your life, making easy living a reality.